EDC Pocket Bolt Pen • POCKET Version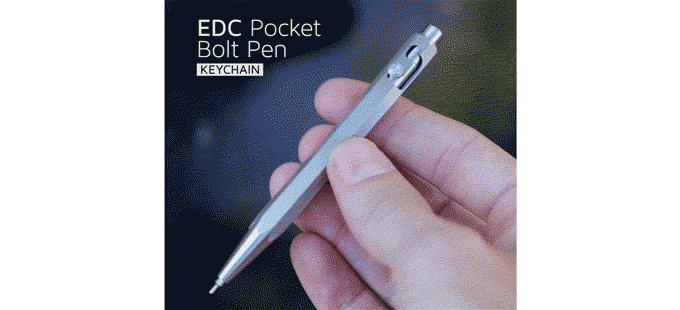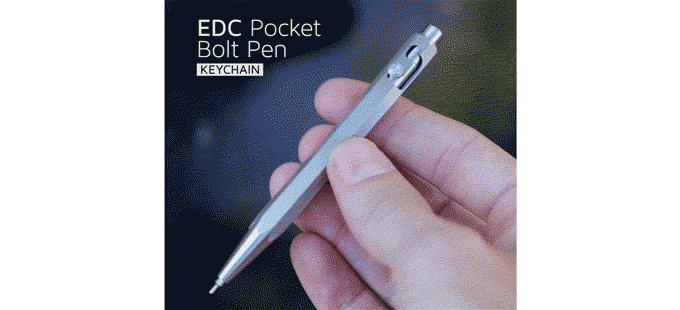 sold out
EDC Pocket Bolt Pen • POCKET Version
100% Satisfaction Guarantee
Ships: 1-3 weeks (All parts are made - Will assemble after ordered)
FREE Domestic Shipping or $9 International Shipping (Orders $35+)
The POCKET version is designed to easily slip into your pocket or bag and with the Patent Pending auto-locking feature, the pen automatically locks closed and stays closed until you need it. The Perfect compact size so you can always be ready. (No Clip or Keyring attachment on this version)
Ships in a nice gift box.
Click here to watch the video and learn more.
Overall pen length: 4 Inches (101 mm)

Diameter of ROUND version: 0.33 in (8.4 mm)

Diameter of HEX version measured from flat to flat: 0.31 in (7.9 mm)

Weight: 1 to 1.2 oz (27-30 grams) depending on material combinations

Ink Color: Black

Ink Refill: OHTO Needle Point 0.7mm

Made in Los Angeles CA, USA
NOTE: Your pen will come with one black ink refill preinstalled and ready to use. You can add extra black or blue ink refills to your order here.
Laser engraving only available on Stainless Steel Barrels.
Bolt & Thumb-stud Material:
The auto-locking POCKET version is designed to easily slip into your pocket or bag. The Perfect compact size so you can always be ready.
Why Bolt Action?
The bolt action mechanism was used for two main reasons:
1. Rugged & Strong - it is a very simple mechanism that has few moving parts and works perfectly for a pen. All pen components are made from solid metal.
2. Fast, Easy, & Fun to Use - Provides fast and easy deployment to start writing as quickly possible. You can easily open and close the pen using one hand (either left or right hand). I also have to say that it is fun to use and play with.
Innovative Auto-Locking Feature
I'm very excited to offer the cool new auto-locking feature (patent pending). This allows the pens to automatically lock when the refill is retracted into the pen and keeps the pen from accidentally opening while in your pocket or bag.
This very cool and innovative feature that sets these pens apart from other bolt action pens. NOTE: The auto locking feature is only available on the POCKET and KEYCHAIN versions. Not on the CLIP version.